The Best Athletes Compete Here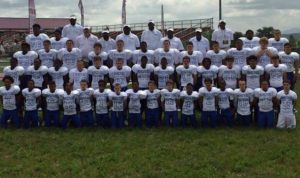 In winter 2009 Ricco Hughes and Josh Jones began making plans for the 1st Annual Kentucky vs. Tennessee Future Stars Classic. Hughes is credited with coming with the popular and catchy name "Future Stars". The goal behind beginning Future Stars was to put each states BEST athletes on a stage and give them a chance to showcase there talents, gain some exposure heading into high school and give them a week to remember for the rest of their life. We wanted the athletes to be able to live like college athletes for a few days to give them an early taste of what its like hoping that will motivate each athlete even more into playing college football one day. To select the teams we felt the Combine / Open Tryout was the best way to "fairly" select the athletes. Unlike other all-star games where you get in on "who you know" or "how much money your parents have" this game was simply out to get the VERY best regardless of who they knew or how much money they had.
In April 2010 our first ever Combine / Open Tryout was held in Knoxville, TN, exactly 229 young athletes attended from all across Tennessee with the hopes of being selected for a roster spot in the first annual game. The game was played June 2010 in Louisville, KY. Both games (7th & 8th Grade) were highly competitive! Tennessee was fortunate to come out on top 33-13 and 17-7 (7th & 8th Grade) respectively. The players and coaches had an awesome experience.
Our goal is to provide each athlete that we come in contact with a positive football experience at our events; whether it be at an Open Tryout or during game week we want everyone walking way feeling they had a good experience.